The Mobo Difference
More Opportunities Better Outcomes
At Mobo Group, we pride ourselves on providing NDIS participants with more opportunities and better outcomes through their personalised and unique NDIS plan. As a registered provider of NDIS services and a government-funded provider of supported employment, we have a wealth of experience and can provide meaningful support for you on your NDIS journey.
Personalised pathways
We recognise that no one pathway is the same and are committed to supporting you on your unique NDIS journey towards employment success and wellbeing.
We will work closely with you, listen to you, and give you the respect and care necessary to build an NDIS plan that meets your needs. Each NDIS plan is unique, just as each individual is unique, and we are committed to forging the best pathway for you to succeed.
Community spirit
With a footprint that extends across both metropolitan and regional South Australia, we have established strong community networks and successful enterprises to provide a diverse range of employment opportunities.
Community is at the forefront of what we do; we can arrange funding to enable you to participate in community activities, particularly if there is risk of social isolation. Our service will develop abilities for you to participate in community activities, both one-on-one and in a group setting.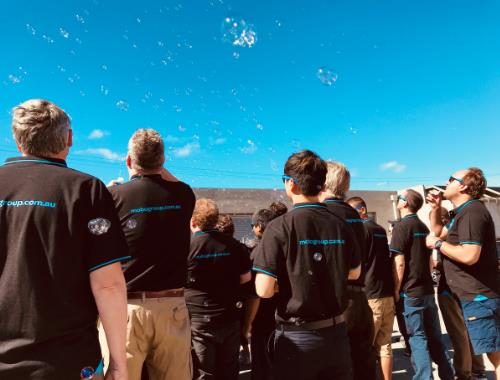 Our Three C's - Commitment, Care and Choice
Mobo Group is an agile provider, offering a level of commitment that you'll only find in a close-knit environment like ours. We will always make time for you. We are never too busy to listen with respect and understanding to provide you with the help that you are looking for.
Inspiring work choices
We want you to have the freedom of choice when it comes to your workplace environment. Once you've found the right choice for you, we provide you with ongoing on-the-job support through employment with one of our business enterprises, to enable you to maintain and retain supported employment.
We have a variety of employment opportunities across each of our enterprises, including Salvage & Save, In Stitches (sewing services), South Coast Firewood, and Fleurieu Lawns & Gardens, to name just a few. Our enterprises employ qualified supervisors to create supported employment opportunities for people with disabilities who are supported by Mobo Group. These opportunities build and strengthen our communities, helping you to feel supported at work and beyond.

Support every step of the way
By your side every step of the way, we genuinely care about making your NDIS journey a positive one that allows you to thrive to be the best you can be. We treat our employees and team like family and are always on hand to provide support, advice and guidance whenever you need it.