Located at Elizabeth, Goolwa, Windmill Hill (Totness)
Our Salvage and Save social enterprises are recognised locally and nationally for the innovative way we address the opportunity to reduce waste going to landfill by focusing on recycling, reuse, and re-purposing items donated to us.
Donate your unwanted goods, reduce landfill, and save on dumping fees.
Waste management problems experienced across our communities continue to grow and burden our society with the nature of products we purchase, having trended to be more disposable.
Through initiatives like Salvage and Save and the community that align with us, we have a positive impact on the environment as we focus on building a more environmentally aware and sustainable society through waste reduction and recycling.
Our blended workforces operate across three council regions. They include people living with disability and able-bodied staff working side by side in sustainable and meaningful employment to reduce the volumes of waste going into the landfill through targeted recover, reuse and recycling initiatives.
We offer a local pick up service for quality items to help make donating easy for you.
Our teams work with the communities in which they operate, assisting with pick-up and collecting items from homes to optimise the donation of goods for resale within the retail shops.
Delivery of larger items purchased by customers may also be negotiated.
Each of the communities in which we operate shows their support for the work we do by donating no longer wanted goods. These operations' activity provides a wide variety of tasks and skills to be developed by the people employed at each site, increasing their capacity to engage in meaningful paid employment and helping them be the best they can be.

Second-hand goods you can find in our Salvage & Save shops include:
Electrical
Toys
Shoes
Furniture
Musical Instruments
Cushions
Building Materials
DVDs
Linen
White Goods
CDs
Books
Curtains
Garden Equipment
Clothing
Bric-a-brac
Hats
And more...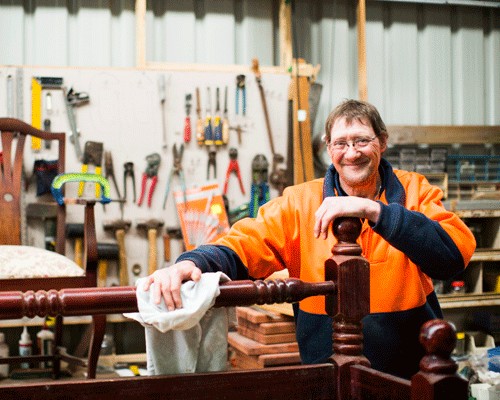 We also have a range of Mobo Products made from donated timbers. These items can be bought or ordered at our site locations or ordered through our online shop. The current product range includes:
Mud Kitchens
Wicking Beds
Wooden Boxes
Black Boards
Christmas Trees
Fish Bench
Birdhouse


To ensure you don't miss that once in a lifetime treasure, we recommend you follow our social media
pages which regularly promote the latest unique items for sale from these sites.